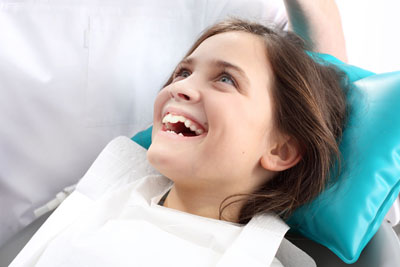 Children need constant care as they grow, and a pediatric dentist can help. Children can scare easily, though, and the dentist's chair may be one area they do not feel comfortable trying out. Fortunately, dentists who earn a certification to treat children also learn ways to help ease them.
Pediatric dentist education and training
Dentists go through a rigorous curriculum of studies to practice. An undergraduate degree, usually a bachelor's degree in a health or biological field, is required. Those who want to go on to specialize in pediatric patients may pursue credits in children's health issues, including psychology and anatomy.
After getting this four-year designation, entry into a dental program is required. According to the American Dental Association, there are currently only 66 accredited dental programs in the United States. The programs take four years to complete, with the final two being mostly clinical work. Graduates go on to take the national board test to get their license to practice. For those wanting to enter into a dental specialty, such as pediatrics, it can be an additional three years of residency.
The skills required to be a capable dentist for children
Aside from the mandated education, dentists who deal with children must have other talents. It is recommended that dentists wishing to go into pediatrics have a prior history of working with children. Since kids present a unique amount of challenges at various ages and stages, it is critical that those who work on them understand these stages and can deal with them.
The fear factor
The equipment and layout of a children's dental office may seem intimidating to kids. Some practices use creative ways to ease a child before and during their time in the chair. Examples include the following:
· Colorful and whimsical theming
· Video games in the lobby
· Sunglasses for use during the examination
· Movie screens above chairs for distraction
· Prizes for a good visit
Dental terms
Some pediatric dentists and their staff develop ways to make children feel more comfortable in this uncertain environment. One thing is explaining processes and procedures in basic and age-appropriate terms. Trying to tell a 4-year-old how a cavity forms in dental terms may not work. However, telling a child that "sugar bugs" can make holes in their teeth if they do not brush them away correctly may be more effective.
Tools of the trade
The tools dentists and hygienists use as part of the practice may make noise and frighten kids. To help combat this, some pediatric dentists like to introduce these tools to children before using them. Allowing a child to see how they work, in advance of actually utilizing them, may help ease their fear during the examination.
Conclusion
Becoming a pediatric dentist takes a commitment to ensuring that children's teeth and overall oral health are monitored and treated. An individual who chooses this path must be able to handle the challenges treating children may present. Other than the formal training, developing a rapport around kids and working to ease their fears are two skills a dentist must have to be a successful pediatric provider.
Request an appointment here: https://www.grandparkwaypediatricdental.com or call Grand Parkway Pediatric Dental at (832) 246-7255 for an appointment in our Richmond office.
Check out what others are saying about our services on Yelp: Read our Yelp reviews.
---
Related Posts
September 12, 2019
Children's teeth develop and grow fairly rapidly, so it is important to take them to a kid friendly dentist in Richmond every six months. Doing so allows the dentist to catch any potentially damaging changes …