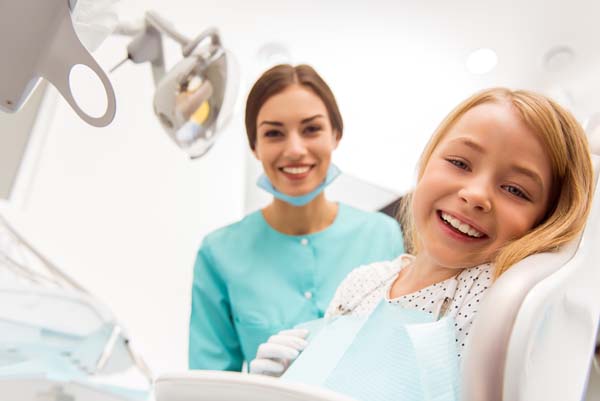 Children's dental care is often more involved than that of an adult's. While there are some scenarios in which adult dental care is intense, children's dental care happens to require more patience and understanding. Children have a lot less experience with dentist appointments, which can be intimidating and scary. Ultimately, all dental care has the same goal in mind, but there are a few key differences when it comes to children's and adults' dental care. It can be helpful to know what some of these differences are; find out more below!
Children's dental care vs. adults' dental care
When a child goes to the dentist, they are likely going to see a family dentist that's kid-friendly or a dentist that specializes in working with children. Either way, the child will receive children's dental care. One of the main things that is different about children's dental care is that the experience that they have when going to the dentist is much more friendly and involved. Children's dental care will involve a more kid-friendly office setting such as stuffed animals or decorations that appeal to children.
Another key difference in children's dental care is that a child may have to receive different kinds of evaluations. Because children's teeth are constantly changing, they may require an evaluation that is more in depth. Dentists have to really ensure that the baby teeth are healthy so that the adult teeth will be too.
While dentists that provide adult dental care will still provide a welcoming experience, they may not put on funny sunglasses or play cartoons for their patients as children's dentists might. Adult dental care tends to be more straightforward, because adults are more experienced with dental appointments. Most adults don't need their parents there with them, which also makes the care received slightly different.
So, while children's dental care does involve more fun and excitement, adult dental care is still very similar to that of children. The goals are still the same; the dentist will evaluate and help maintain good oral and dental health. However, the way that appointments are executed may be slightly different. Children's dental care may also require a different type of evaluation too because their teeth are falling out and growing in.
Talk to a children's dentist today
General, family and pediatric dentists can all provide children's dental care to their patients. The experience may be more exciting when it comes to children's dental care, but all in all, the goals are still the same as that of adult dental care. If you have questions, then reach out to our office so that we can help you further. Let our trained professionals go over anything that you're curious about regarding children's dental care. Give us a call or stop by today!
Request an appointment here: https://www.grandparkwaypediatricdental.com or call Grand Parkway Pediatric Dental at (832) 246-7255 for an appointment in our Richmond office.
Check out what others are saying about our services on Yelp: Read our Yelp reviews.
---
Related Posts
October 1, 2019
When it comes to caring for a child's teeth, pediatric dentistry offices are an excellent resource. This section of the dental field focuses on providing dental services for children. Pediatric dentists are trained on the …